Black Label Society – Shot to Hell (Release Year – 2006)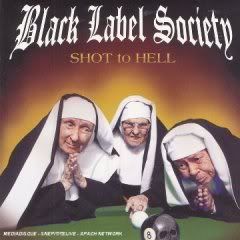 How does Zakk Wylde do it? Each year he chugs out another quality CD.
Shot to Hell is no exception in the quality dept.
This CD sounds like it could be Mafia part 2 in many cases, with the exception that it has more slower tracks than its predecessor. Aside from that, Zakk's vocals and guitar style is virtually unchanged, and that is a good thing. I guess if it isn't broke don't fix it. The BLS formula seems to work.
Several quality tracks and a only a 2 or 3 that I would consider fillers. If you liked Mafia, chances are you will enjoy Shot to Hell as well. Fans needing a heavy yet melodic hard rock CD should give this one a look. For Black Label Society fans, its a no brainer, pick this up!

Track Listing:
Concrete Jungle*
Black Mass Reverends*
Blacked Out World
The Last Goodbye*
Give Yourself to Me
Nothing is the Same
Hell is High
New Religion*
Sick of it All
Faith is Blind
Blood is Thicker that Water*
Devil's Dime
Lead Me to Your Door
Black Label Society is:
Zakk Wylde – Vocals, Lead Guitars, Rhythm Guitars, Piano, Keyboards
John DeServio – Bass Guitars
Craig Nunenmacher – Drums
Nick Catanese – Rhythm Guitars
~ by Rob Rockitt on November 17, 2006.
Posted in CD Reviews A-H, Entertainment, Hard Rock Music, Music
Tags: Black Label Society, blacklabelsociety, CD, Hard, heavy, metal, Nick Catanese, Review, rock, Zakk Wylde